Our BOL program is a realtime lead delivery of buyers that have applied online for a direct vehicle loan but have been turned down. These are buyers that an experienced Special Finance manager can help!
Where do the leads come from?
Leads came from people who have applied directly to lender affiliated with us but did not meet the qualifications for a prime program. These applicants have opted to share their information in order to find financing on a vehicle.
How do I get more?
Simply contact us at 877 2 GET BOL and we'll answer any questions that you might have or help you get signed up immediately.
Why miss the opportunity?
Third party research* has found that on average 65% of these leads will purchase a car within the next 48 hours and 87% will purchase a car within one week.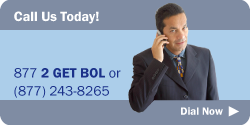 Program Highlights
Your dealership receives pre-qualifying applications, 24 hours a day 7 days a week from customers directly in your area.
Your dealership exclusively receives pre-qualifying applications via fax and or email of the customer submitting their application.
Your sales people prioritize, make appointments, and close the deals.